Magnetic Solutions product catalogue
CLIENT:  MAGNETIC SOLUTIONS VIA IDENTIFY MARKETING
PROJECT: PRODUCT CATALOGUE
Magnetic Solutions needed a traditional printed catalogue to work alongside their website and online ordering system.  This was a complex catalogue with tables of data to include as well as clear cut product imagery.  
With a clear brand to work with I set about laying out the catalogue in clear colour-coded sections using a consistent format throughout.  
CLIENT:  REAL GOOD FUNDRAISING
PROJECT: CANVA TEMPLATES FOR CATALOGUE AND FLYER
Sid launched her new business Real Good Fundraising in early 2017. She had a great new brand and logo created and ready to go, but needed to get her marketing material created.  Like all busy solo-preneurs, there is so much to do and only one pair of hands.  An easy to use template was needed for her fundraising catalogue – something that she could easily update and edit in the future without having to use a designer.  Sid decided the online graphic software Canva would the ideal format for her template, so engaged me to create it for her.
Working with the brand guidelines and logos supplied, and Sid's great brief, the catalogue was created in Canva.  Following the catalogue we developed a one page flyer for digital distribution or print.
Canva is a great tool for the non-designer, and despite it's limitations with large areas of copy and some occasional glitches with exporting larger documents, the result was great and Sid has some great layouts to work with in the future.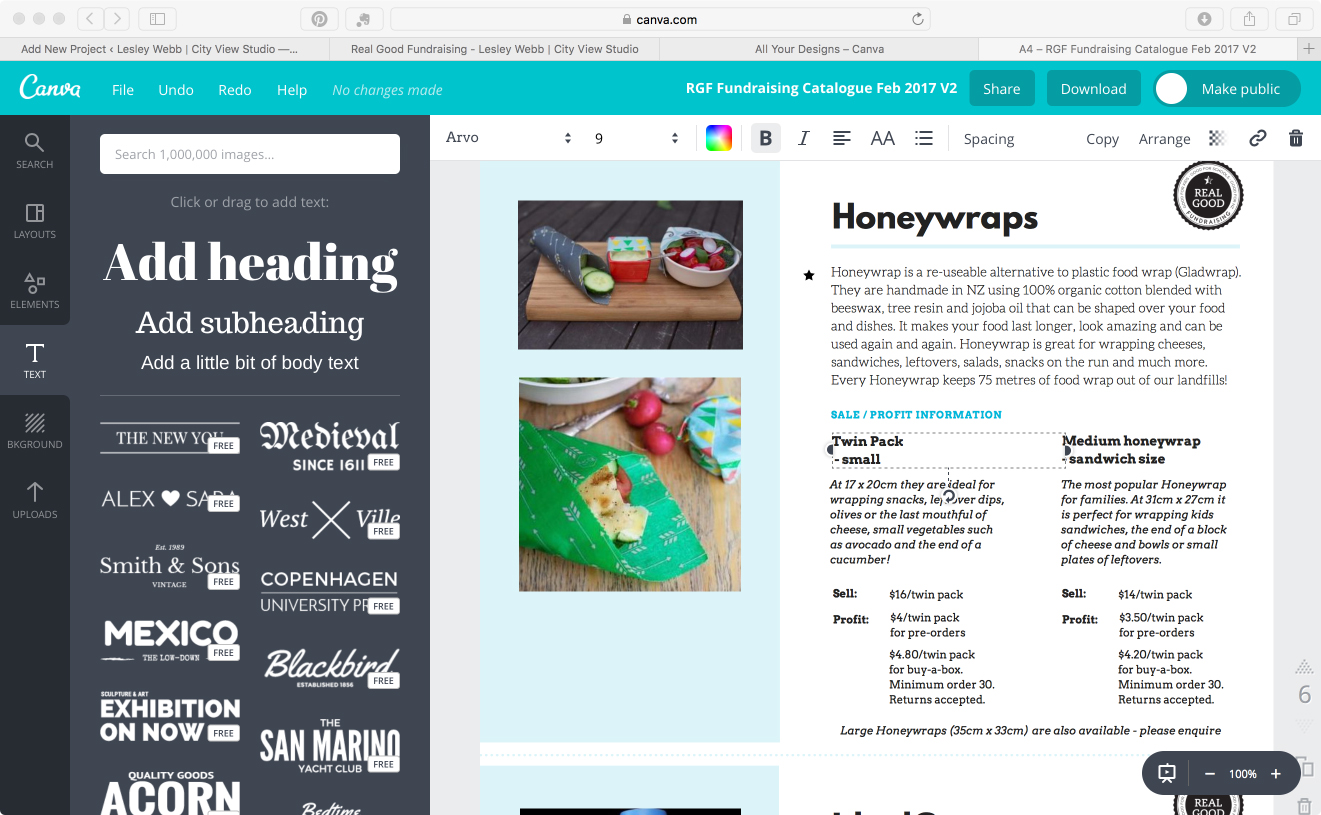 Lesley recently completed a product catalogue template for me using Canva, that I could then add my content by myself to complete the catalogue. I had attempted to design a catalogue myself and quickly realised I needed professional help! Lesley offered a very timely, professional and friendly service and came up with a beautiful, clean, easy to use template design. Having a template made was very cost effective and I ended up with a professional looking product that I can update and add to as time goes by. She nailed the brief – in fact when I showed the catalogue to a friend her exact words to describe it were what I had requested in my email to Lesley!

Lesley was also very helpful with other aspects beyond the catalogue design process, for example advice on finding stock photos and using Canva, which I did not have much experience with. I was stoked with the end result and highly recommend Lesley's services. 
see more of my recent work