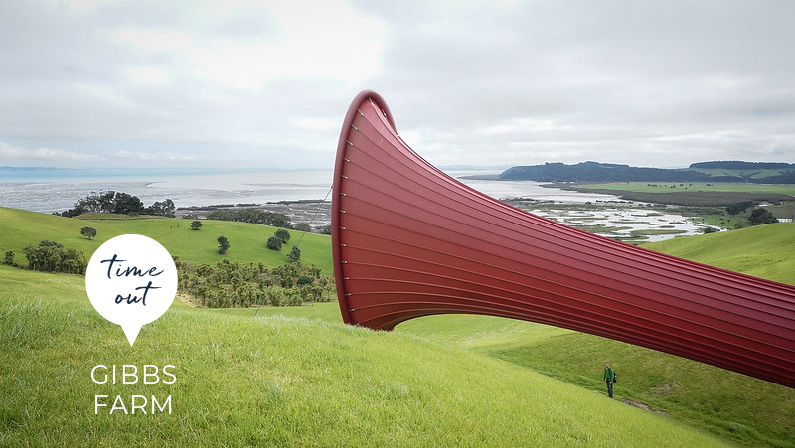 Time Out: Gibbs Farm
Epic sculptures in an equally epic landscape
For years we would drive past a farm on the Kaipara Coast Highway and spot unusual shapes on the landscape and wonder what was going on behind that hedge.  It was only in the last few years that I found out that the 1,000 acre Gibbs Farm housed the largest private collection of grand-scale outdoor sculptures in New Zealand, which, if you are organised enough, you can plan to visit.
The farm is open to the public once a month on a Thursday, but you have to reserve a space – well in advance – I booked in April for a September visit – so about a 6 month wait.  Available dates book up fast, so you have to keep your eye on the Gibbs Farm website for new dates becoming available.  There is no charge to visit.
We spent 4 hours wandering amongst the sculptures and taking in the stunning landscape.  Everything is on an epic scale, with opportunities to observe the sculptures from every angle.  Stand-out works for me would be Bernar Venet's "88.5° ARCx8" (steel arcs on the ridgeline, for their visibility and graceful arcs) , Richard Serra's "Te Tuhirangi Contour" (spectacular steel wall) and Andy Goldsworthy's "Arches" (stone arches set into the shoreline).  However, the shape and scale of Anish Kapoor's "Dismemberment, Site 1" really demands your attention and imagination.
Something you can't see in my photos is the hundreds of people that attend, but that didn't impact our appreciation of the works.  There are lots of beautiful spots to have a picnic – we chose the shoreline next to the "Arches" and had a couple of rest stops in other places around the farm.  Our last stop was with the giraffes (there are three) – nice and close with a chance to hand feed them and even pat them.  We will definitely book again, and take the kids – though I don't expect them to do the amount of walking we did.  I think we will be just as amazed next time.